Not everyone eats meat. So for this Thanksgiving, The Assertive Kids Foundation chose to donate a Tofurky®  Plant-Based Vegetarian Roast to the Salvation Army outpost on Forest Avenue in Port Richmond. According to Madeline Morales-Goriva, who helps prepare the holiday meal for Staten Island families, there were, actually, local families celebrating at the Salvation Army Community Center whose members did not eat meat or dairy.
In the past, these families were content to eat vegetables and bread. However, in 2019, these families had the chance to eat a faux-turkey, high in protein just as real turkey is, yet without any trans-fat or cholesterol.
It's always wonderful that so many charities donate turkeys so that those falling on difficult times may have a feast of their own with family and friends. Here in the United States, it's true that for the longest time, our fellow citizens make sure that no  one is left out, and there's always enough for everyone.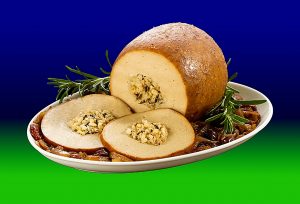 Families choosing to eat a vegetarian or vegan diet, whether for religious, ethical, health, or other reasons, shouldn't be excluded. Many Americans are not quite into the plant-based diet phenomenon. Even if you're not an avid plant-based diet practitioner, it doesn't mean helping others who are, is outside the ream of possibility.
Some people have allergies. Some families have kids with sensitivities. Others, they eat this way because they wish to practice Ahimsa, or nonviolence, or interpret the Bible as forbidding flesh as food. There are just so many reasons, we never can tell why someone eats a certain way.
Members of the Seventh Day Adventist (SDA) Church, a branch of Christianity, eat a vegetarian or vegan  diet. In fact, on the North Shore, we have the Staten Island Seventh-Day Adventist Church on 80 Union Avenue in Mariner's Harbor.  So, there are, in fact, people right in the area who eat a diet free from animal products.
Clara Smith, Community Service Leader since 1999 for the food pantry at the Staten Island Seventh-Day Adventist Church, explained that their food pantry does, in fact, provide meat to those seeking it. While meat is not a part of the Church's banquets, where  it concerns the larger community, the Church "doesn't stop people from eating what they like," according to Ms. Smith.
The food pantry in Mariner's Harbor, also located at 80 Union Avenue, is open Sundays, from 9 AM to 2 PM. It is open to all members of the community. Everyone must bring an ID. No one has to wait outside in the cold, Ms. Smith explained. There is a Benefits Hall with coffee and tea for those waiting to be served.
Meat is offered, though pork and pork products are excluded. There are also meat-alternatives, grains, as well as fresh and canned fruits and vegetables. There are Thanksgiving and Christmas banquets open to all, and both animal-free and chicken options are available.
Next year, Assertive Kids hopes to donate additional plant-based meals for Thanksgiving, both to the Seventh-Day Adventist Church, as well as the Salvation Army Community Center. If you are interested in donating funds to this particular cause, we will earmark your donations and set the donations aside to be used for this specific purpose.